Autogas is the name for propane when it is used as an "on-road" fuel. Autogas consists of three parts carbon and eight parts hydrogen, making it a highly efficient, low carbon-producing fuel. It is commonly found in heavy equipment and fleet applications such as forklifts, work trucks, landscaping equipment, public transit vehicles, and even police cars.
Autogas, also known as liquefied petroleum gas (LPG), or propane autogas, is considered an alternative fuel under the Energy Policy Act of 1992. According to the Propane Education & Research Council, there are nearly 200,000 on-road propane vehicles in the United States.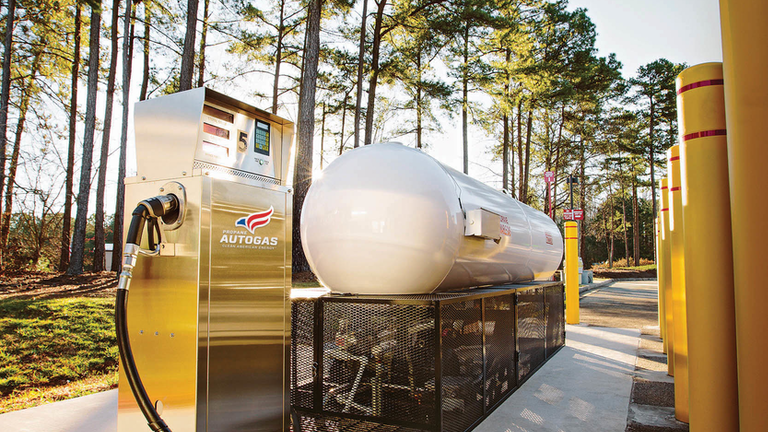 Consider these compelling statistics:
New propane autogas vehicles added in 2017
of Las Vegas taxis are propane hybrids, saving over 1,600 tons of carbon monoxide and particulate matter per year
Children ride a propane autogas school bus in 800+ school districts across 48 states
What is Autogas Used For?
With landscaping and gardening being at the forefront of green innovation, manufacturers are gearing up to introduce rugged and powerful tools which are durable, perform well, and efficient. According to research from the Propane Education and Research Council (PERC), in the last few years, the number of contractors, landscaping companies, and golf courses utilizing propane to power their fleet has increased significantly. As of 2018, there were 14 original engine manufacturers (OEM) that produce approximately 150 propane mower models, making the switch to a propane-powered commercial mower easier than ever!  
Diesel work trucks can leave fleet managers and owners struggling with additional maintenance, costs, and downtime; however, using propane autogas eliminates those hidden costs for filters and fluids and reduces fuel costs for an overall lower total-cost-of-ownership.
Other applications include:
Retail items (lawnmowers, snowblowers, outboard motors, buffers, generators, forklifts)

School buses

Taxi cabs/limousines

Airport shuttles

Police and ambulance fleets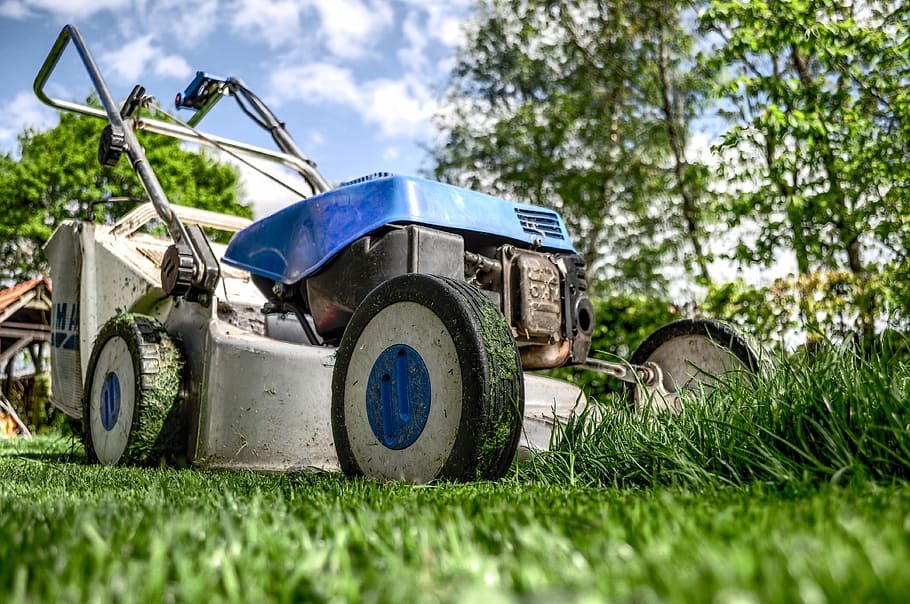 Top Pain Points Autogas Solves for Fleet Managers
For several decades, the talk around the automotive fuel industry has been centered on four major pain points. But companies and fleets utilizing autogas have successfully addressed these long-standing issues that include:
Fuel is a major cost for any company that runs a fleet. Rising fuel costs have become a major pain point for fleet owners and managers. In addition, the time it takes for vehicles to fill up at gas stations can add up. Propane autogas costs less than gasoline and can be purchased through a propane supplier. It can also save time on fill-ups, as a propane tank can be placed on your property for easy refilling. 
Here are some statistics showing why autogas users love propane autogas compared to other vehicle fuel sources:
According to

Automotive Fleet

, in May 2019, the national average price per gallon of propane autogas was $1.45, while regular-grade gasoline was $2.86. In addition,

propane autogas is consistently 25% – 50% cheaper than gasoline and diesel.

The cost of constant maintenance of vehicles running on gasoline or diesel is around $1,000 per year. With propane autogas, you can

save money on yearly oil changes and save time fixing your vehicles

. Because propane is a clean fuel, there is less vehicle downtime. Managers are thrilled because it means more time on the road getting their business done!
Since propane autogas was invented, one of the primary concerns was the payload capacity, or in other terms, how much cargo weight the vehicle can safely hold. Initial users believed the added propane tank would decrease payload capacity. However, new propane autogas tanks are designed to save space and weight. Fleet managers are reaping significant economic and environmental benefits from using propane autogas-powered vehicles without sacrificing payload, power, or performance.
Fleet managers are in constant search of strategies to increase fuel efficiency. As an alternative fuel source, propane autogas enjoys the longest driving range of any alternative fuel product without sacrificing power or drivability.  
In a real-world example and according to the Propane Education & Research Council, a Florida towing and recovery service owner converted three Ford F-550 V10 6.8L to a propane autogas bi-fuel system. Before the conversion, the total gasoline capacity for his light- and medium-duty tow trucks was about 26 gallons. With the addition of a 50-gallon propane autogas tank, the trucks have tripled capacity, eliminating the need to refuel during a shift.
Recent inventions for propane-fired vehicles such as the low NOx engines and ultra-low NOx engines are great tools to help eliminate emissions. These engines proved to have a 96% reduction in NOx emissions compared to best-in-class diesel engines.
Rebates, Rebates, Rebates!
One of the biggest incentives for companies to switch their fleets to a clean and reliable fuel source is the rebates offered. 
Companies that install alternative fuel stations are eligible for various tax credits:
For more rebates and specifics by state, visit the Alternative Fuel Data Center website.
What Does An Autogas Setup Look Like?

A typical propane autogas set up includes the following:
A large, stable foundation to install the station on (most likely a concrete slab)
One or more large, propane fuel tanks
Electrical setup
Crash protection
A fuel pump
One or more dispensers with meters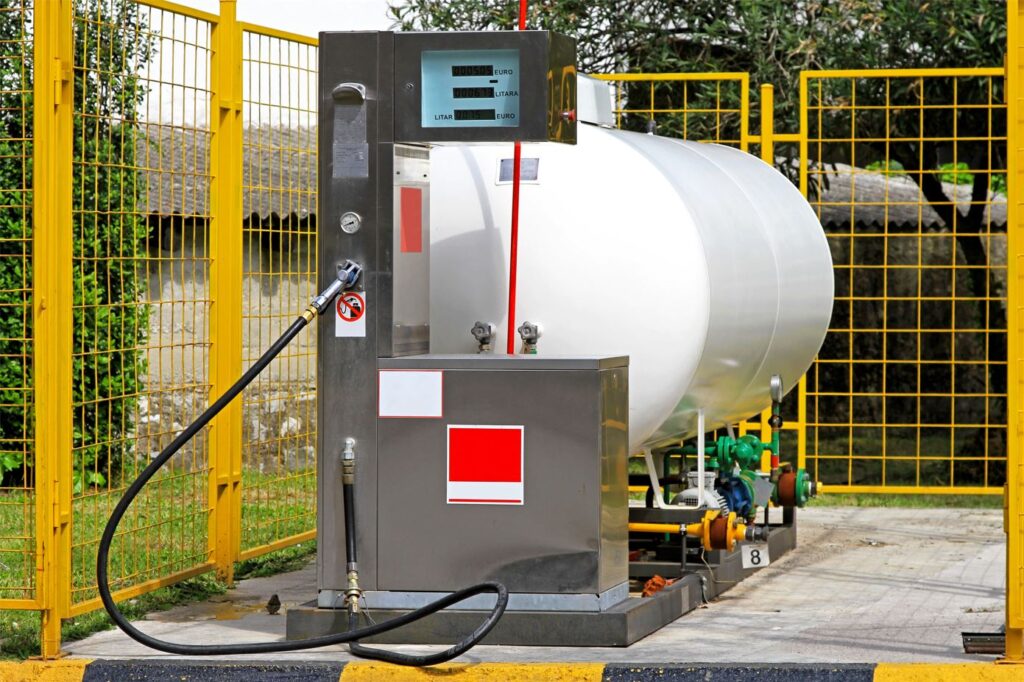 Start Saving Your Fleet Money Today!
Great Valley Propane is a premier full-service propane company. We cover everything you will need for your autogas needs and walk you through what an autogas setup needs to succeed. From the initial site visit to the automatic delivery to keep your site going, we can do it all!
We use modern-day tracking technology to remotely track your propane levels so you can rest assured your fleet always has the gas that it needs to keep moving. 
24 Hour Emergency Service
We offer around-the-clock emergency services for your business, so you'll never have to worry about losing a workday. Our response time is like no other in the industry, and the knowledge our team brings to the table every day will solve any problem!
Great Valley Propane has been committed to keeping businesses and fleets comfortable for decades, and we don't plan on stopping any time soon!