Great Valley Propane was created in 2006 from its then sister company, Haly Oil (later became Haly Home Comfort). Haly Home Comfort started in 1985 with one driver and one truck. The company quickly began providing thousands of Pennsylvania residents with heating oil services and HVAC work.
Bud Haly continues to embody the same core values he had in 1985 and has expanded Great Valley Propane to have a wide-reaching customer base that now encompasses three divisions across Pennsylvania and Maryland. From starting in just one county in PA to currently serving nine counties across PA and MD, more and more residents and businesses are realizing the impact Great Valley Propane can have on them!
Walter "Bud" Haly establishes Haly Oil
Great Valley Propane is founded
Great Valley Propane opens Quakertown, PA Branch
Great Valley Propane opens Monkton, MD Branch
There is an abundance of companies that sell their customers on family values. But at Great Valley Propane, we live by these values every day. We're proud to say that we have grown and successfully embraced change along the way. While this ability to adapt has helped us thrive over the years, our core values haven't changed since day one. For us, it's not just a job — it's a matter of family and community pride.
Photo of GVP founder, Bud Haly, and his dog, Largo.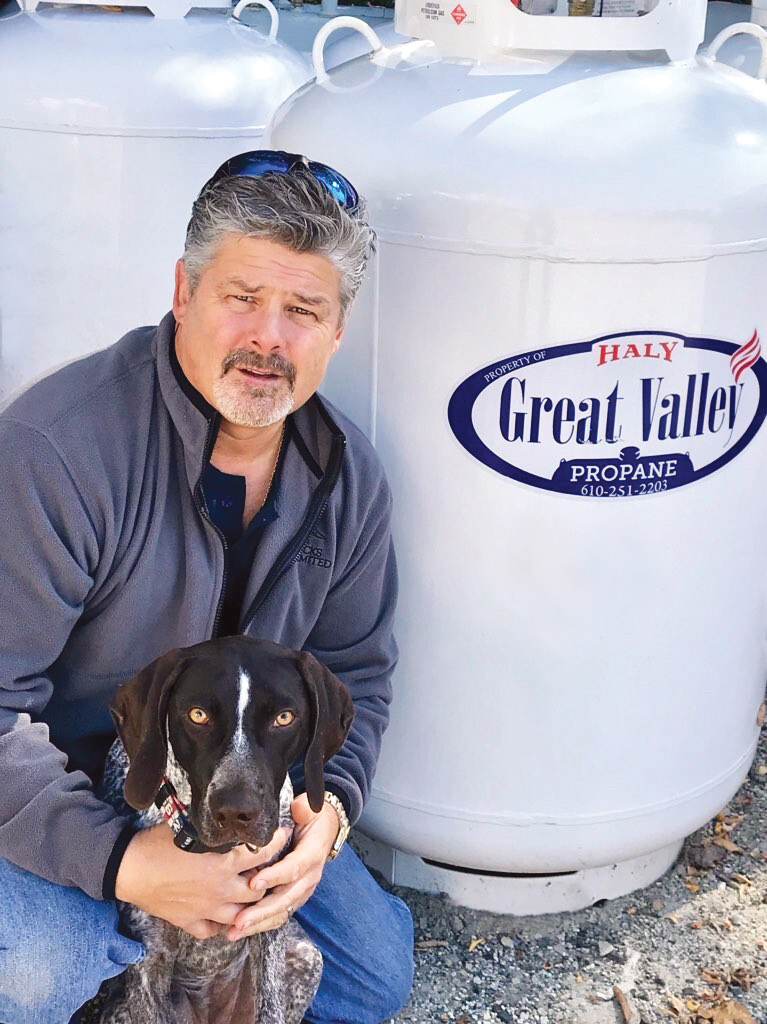 At Great Valley Propane, we're more than just a propane supplier. We are in the business of providing meaningful memories full of warmth and dependability you can trust and always rely on. Furthermore, we understand that families, businesses, and jobs depend on us to keep them going. That's why we employ people who care about those they serve and put others ahead of themselves.
Live Customer Support
Real people answer our phones. Many companies forgo an actual human voice answering calls in an attempt to save money. Although interactive voice response (IVR) technology can save time and money, we prefer to establish relationships with our customers.

Guaranteed Fair Pricing
When you buy from Great Valley Propane, you can rest assured that you'll get a price that gives you the most bang for your buck! Every gallon of propane we sell is competitively priced and backed by the most reliable delivery team in the industry.
Personalized Experiences
We value customers' time, have a positive attitude, and provide knowledgeable and resourceful recommendations. We also take things a step further to exceed, rather than just meet, expectations. Our staff sees every problem through until it's resolved. No person is too big or small at Great Valley Propane, including our owner, who makes himself available to help with deliveries and installation if needed. 
Your Safety Is Our Top Priority
As a propane supplier, your safety is extremely important to us. We at Great Valley Propane always want you to feel warm and at home and work. That's why we provide our delivery personnel with extensive safety training, offer our customers propane system safety checks, and provide as many safety resources as possible to our customer base.  All of our employees are trained in propane safety and can help direct you in the event of a propane emergency.
At Great Valley Propane, we treat our customers with friendliness and fairness, whether you've been a customer for 15 years or you're just signing up today. We believe honesty and integrity are values that still matter today. We are upfront about costs (with no extra add-on fees) and always straight with customers about repairs if needed.
We believe that when employees are having fun, they are more creative and more productive. We have fun at work, trust the people we work for and with, have pride in what we do, and enjoy the work we do and the smiles we create.
We appreciate customer feedback and encourage customers to join the fun by visiting our Malvern office, attending Customer Appreciation Day, taking photos, or asking our drivers and technicians questions.
Contact Great Valley Propane Today
We're Here to Answer All Your Questions!
Need more information? Or, ready to set up an installation or delivery service? Contact us today, and we'll help get you started. We welcome your questions and comments.
Click on the link below to get a quote, or give us a call, and one of our customer service team members will answer all of your questions.