Propane Gas Convection Can Heaters
Depending on your project or emergency needs, GVP has the temporary heating solution for you. We can provide the necessary tank(s) and portable propane gas convection can heaters! Whether you need small tanks for a short period of time or larger tanks for bigger projects, GVP is here to help! 
Propane gas convection can heaters allow for easy maneuvering and provide great heat for an entire space. Construction workers love how little space they take up and how warm they keep their area! 
Why should you choose us? Because we'll get the job done quicker and better than everyone else! Our temporary heat experts and tank installation project managers are quick to respond to emergencies and builder's needs. Need a temporary heating solution as soon as possible? We'll have the necessary equipment for you in no time!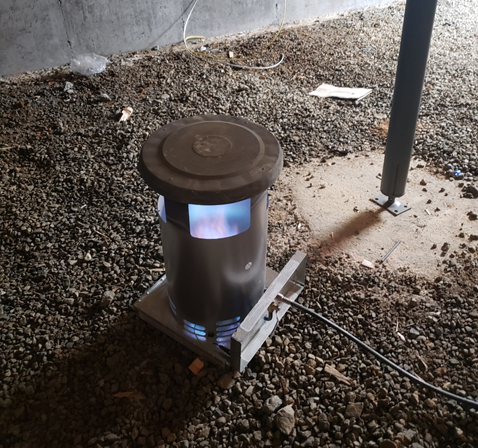 Why Choose Propane For Temporary heat?
Unlike other temporary heat options, propane can go with you anywhere, at any time. Electric heat requires access to a grid and can take up valuable outlets that may be needed for equipment. We will supply propane gas convection can heaters that are easy to pick up and move around as you do!
It couldn't be easier to use propane to heat your business, workspace, or outbuildings. Propane is available with various container types, from large tanks to cylinders, and simply requires swapping cylinders or refilling a tank. With no spills to worry about, propane is a simple solution for job sites.
Propane doesn't spill, is non-toxic, and doesn't pool. There's no concern for soil or groundwater contamination or damage to your buildings, business, or work site. In addition, workers don't have to worry about dangerous chemicals around their job site.
Propane does a great job keeping the job site warm even through the coldest parts of the year. This lets you stay ahead of schedule because you won't have to call the job on those super-cold days. Additionally, we'll take care of making sure the tanks are always full and your construction heat needs are solved!
Propane Vs. Other Temporary Heat Sources
Temporary heat comes in a variety of forms. Electric heaters are portable, as are kerosene. But both of these options have their drawbacks:
Kerosene heaters can be messy, and can even leave a film on equipment or structures located near the generator.
Electric heaters require access to outlets, and may not put out enough BTUs to keep the job site warm enough. Keeping things warm could cost you more time and money with electric heaters.
Only propane offers reliability and portability in a clean-burning, non-toxic form. If consistent heat and cost are important to you, you're in luck – propane fits the bill.
Get the Temporary Heat You Need with Great Valley Propane
You have enough to worry about with your business – keeping your workplace or job site comfortable shouldn't be one of those concerns. At GVP, we know that our commercial customers have a million reasons to need temporary heat – from construction sites to livestock and poultry care and beyond. Great Valley Propane will be there for you, no matter when or where you need efficient, reliable, and cost-effective heat.
Of course, your business isn't the only place where you may need temporary heating solutions. Whether you're looking to quickly heat your home in an emergency or to provide portable temporary heating solutions for your home, garage, and outbuildings, GVP offers safe, reliable, and clean heat when and where you need it most.