Many propane users are confused when looking at their propane tanks. Understanding how much propane is left in your tank can save you hundreds of dollars and prevent unfortunate situations where you run out of propane. Learning how to read your propane tank gauge is very easy and useful!
Keep in mind not all propane tanks have gauges. Here's an article on how to tell how much propane is left in a tank without a gauge. Below is a detailed step-by-step process on how to understand what your propane tank is telling you!
Step 1: Open The Lid
Start by opening the lid of your propane tank to reveal what's underneath. There are multiple components under the lid. Here is a picture of the typical components you will see: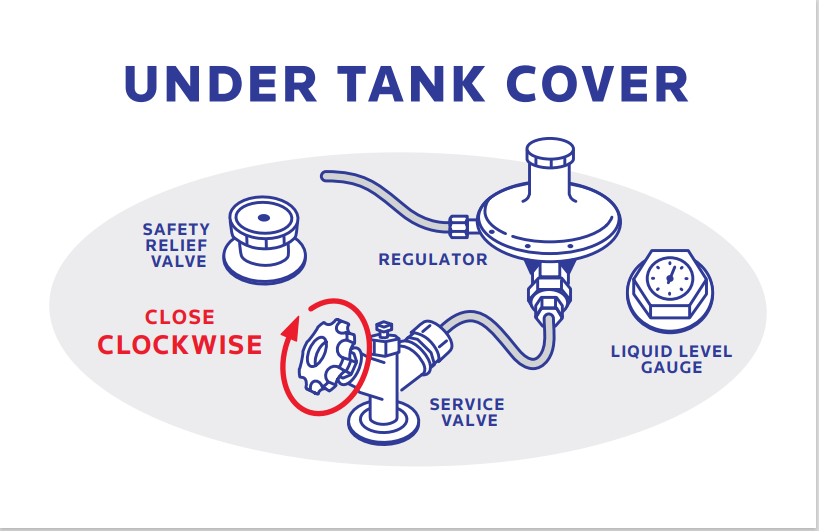 Step 2: Identify the Gauge
The propane tank gauge will look like a circular dial that has a red or black needle indicating the fuel level. The purpose of the gauge is to show you how much propane is left in the tank. Most gauges are "float gauges" (like a vehicle's fuel gauge). The gauge reads the level of liquid propane in the tank utilizing a floating arm and drops as the propane level drops. Learning how to read the gauge will help you know when it's time to request a refill.
Some things to keep in mind:
The numbers on the gauge represent how full the tank is as a percentage.
Propane expands and contracts as temperatures rise and fall.
Propane tanks are filled to about 80% capacity due to the natural expansion of the liquid.
Therefore, if your propane tank reads 80%, that means it is full.
Below is a chart to help understand how many gallons are left in your propane tank:
| Gauge Reads | 120-Gallon Tank | 250-Gallon Tank | 500-Gallon Tank | 1,000-Gallon Tank |
| --- | --- | --- | --- | --- |
| 80% | 96 | 200 | 400 | 800 |
| 70% | 84 | 175 | 350 | 700 |
| 60% | 72 | 150 | 300 | 600 |
| 50% | 60 | 125 | 250 | 500 |
| 40% | 48 | 100 | 200 | 400 |
| 30% | 36 | 75 | 150 | 300 |
| 20% | 24 | 50 | 100 | 200 |
| 10% | 12 | 25 | 50 | 100 |
Step 3: Close The Lid Slowly
Close the lid of the propane tank slowly and safely while keeping your fingers out of the way.
Helpful Hints About Propane Deliveries
If you choose to monitor your own tank levels and call for deliveries when you deem necessary, try not to let the tank level drop below 20%. For homes that depend on propane as the primary heat source, the propane level can diminish very quickly if the temperature outside gets cold. Therefore, we recommend calling when your propane tank has about 30% left.
Running out of propane is not fun for anyone involved. We don't want you to experience running out of propane and running out of heat during the middle of the winter. However, if you DO run out of propane, give us a call immediately, and we will dispatch an emergency driver as soon as we can. By law, a pressure and leak check must be performed for any propane tank that runs out of gas.
Great Valley Propane Provides Quick and Efficient Deliveries!
Great Valley Propane offers a comprehensive automatic delivery service to ensure you never run out of propane and make certain that you don't have to worry about checking the propane tank gauge. However, it is still wise to know how to read your propane tank gauge in case of emergencies.
Give Great Valley Propane a call today to get set up on automatic deliveries and never worry about running out of propane!