Since 2016, Great Valley Propane has been proud to serve Maryland residences and businesses. Starting from an employee's home, we grew quickly and expanded into our Monkton office. Our dedicated team of propane experts has helped us become the most trustworthy and reputable propane supplier in Maryland!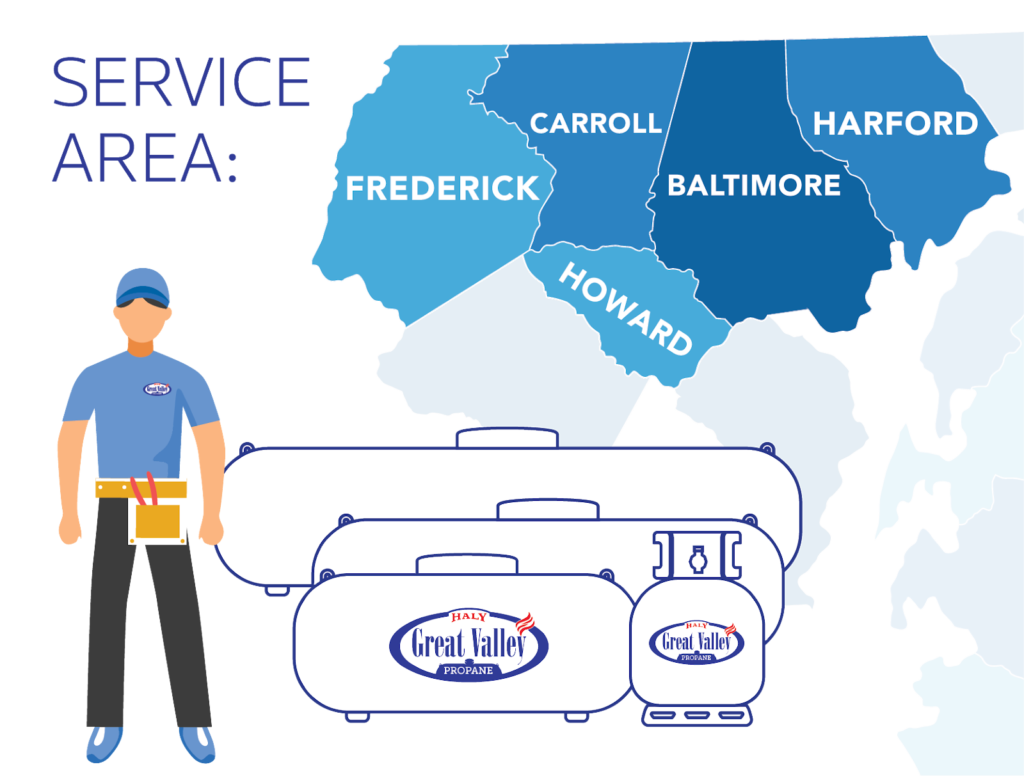 Maryland's Propane Demand
Maryland's climate varies drastically throughout the year. Winters are snowy and cold, January being the coldest month. Temperatures average between 20°F and 25°F, which increases the need for fuel to heat homes, hot water, and garages. Summers in Maryland vary from mild to hot, with the warmest month of July experiencing average temperatures of between 85°F and 89°F. Propane is a great way to fuel summertime festivities such as grilling, pool heating, fire pits, and outdoor patio lighting. 
Whether you or your business are just exploring propane as an option or have an immediate need, our propane professionals look forward to assisting you. We want you to be part of our Great Valley Propane family!
Baltimore County is Maryland's third-most populated county with a population of 826,392. It is the third-largest land area in Maryland, with 612 square miles and an additional 28 square miles of water. The county is known for the equestrian sports of steeplechasing, horse racing, fox hunting, and jousting, the official state sport.
Carroll County was created in 1837 from parts of Baltimore and Frederick Counties. It is bordered on the north by the Mason-Dixon Line with Pennsylvania. The county has a total area of 453 square miles, of which 448 square miles is land and 5.1 square miles is water. Carroll County is known for its country appeal, farmland, and small towns and communities.
Frederick County is the 8th largest county in Maryland, with a population of 268,755. In terms of land, it is the largest county in Maryland, a total area of 667 square miles, of which 660 square miles is land and 7.2 square miles is water. The county is filled with mountain views, wineries, breweries, distilleries, orchards, and vibrant Main Street communities.
Adamstown
Braddock Heights
Brunswick
Buckeystown
Burkittsville
Emmitsburg
Frederick
Ijamsville
Jefferson
Knoxville
Ladiesburg
Middletown
Mount Airy
Myersville
New Midway
Point of Rocks
Rocky Ridge
Sabillasville
Thurmont
Tuscarora
Woodsboro
Harford County is located 25 miles from Baltimore and strategically located along the shores of the scenic Chesapeake Bay. The county has a total area of 527 square miles that includes 437 square miles of land and 90 square miles of water, and has a population of 258,559. Harford is home to scenic parks, world-class golf courses, state-of-the-art sports complexes, unique shopping, and dining options that provide a superior quality of life for residents.
Abingdon
Belcamp
Benson
Churchville
Darlington
Edgewood
Fallston
Forest Hill
Gunpowder
Jarrettsville
Joppa
Perryman
Pylesville
Street
Whiteford
Howard County offers the charm of a historical past mixed with the excitement of a cosmopolitan community. It is located close to the center of Maryland and has 250.74 square miles of land area and 2.65 square miles of water area, and a population of 331,828. The County has continually ranked among the most affluent, advanced, and educated communities in the United States.
Annapolis Junction
Columbia
Cooksville
Dayton
Elkridge
Ellicott City
Fulton
Glenelg
Glenwood
Highland
Jessup
Laurel
Lisbon
Marriottsville
Savage
West Friendship
Woodbine
Woodmark
Our Channel Partner Program
Great Valley Propane offers a comprehensive Channel Partner Program that enables other companies to refer their customers to Great Valley Propane for propane-related products and services. The program provides several benefits to partner companies, including a competitive commission structure, dedicated sales and support teams, and a range of marketing materials and resources to help promote Great Valley Propane's offerings. Partner companies can refer their customers to Great Valley Propane with confidence, knowing that they will receive high-quality propane products and services at competitive prices, and that Great Valley Propane's experienced team will provide excellent customer service and support. Additionally, partner companies can leverage the program to expand their product and service offerings, increase customer loyalty, and generate additional revenue streams. Overall, Great Valley Propane's Channel Partner Program is a valuable opportunity for companies looking to provide their customers with reliable and cost-effective propane solutions.